What's this scrumptious creation from Instagram? We'll just have to wait to find out completely. Kathy says it's blueberry cheesecake at that tiny, twee, downtown garage "venue" where she and 10 other people go every now and then to feel really proud about paying $100 to bring their own bottles of $10 wine and eat stuff that looks like the bombing of Dresden constructed in Pop Tarts. This is nouveau cuisine as interpreted by a 2-year-old. Why is there a regatta of blueberries in a flooded dish-ditch of caramel? Why is the whipped cream so grainy and melty? Why do the sheets of pastry look like middle school diorama war memorial?
While we wait, Kathy returns on Friday to talk about everything she ate during the last week*. Not this last week, of course, but the week before that. Why "of course"? I don't know. Kathy has some explanation about why her totally busy schedule doesn't allow her to write down captions to photographs of her oats and post them in a timely manner, but it would take a graduate-level class in Post-Feminist Authorial Conceptual Progress in the Spatial Tradition of Diet-Blogging to understand. It's probably her Inconvenient Toddler's fault anyway.
Kathy can't really figure out how to get in or out of these weekly food recaps the same way she could when she was posting three times a day, immediately after every meal, and it's got to be tearing her up. Look at how she struggles to be enthusiastic by leaning on the keyboard
Heeeeeeey guys!
and calling stupid things like yogurt and fruit and granola in a bowl
So quick and easy, filling and delicious.
Is she going to break out into spontaneous ad jingles?
And then there are the strangely romantic odes to things that shouldn't be romanticized. Like her child — we'll get to that in the next recap. Or sugar-drenched oat stuff.
I haven't had much granola in my house this year (a conscious choice) but this Naturebox PB&J granola was so good! It reignited an old flame.
Dude, you and granola are not Bogey and Bacall. Eat your breakfast and get on with life. How else can you exaggerate your subsequent bowls of fruit and granola and yogurt?
Thumbs up!

Classic!!!
Ah. Well. I'm sorry I asked. What else did you put in your mouth lately/not really lately?
This was a combo of the two – a small portion of leftover oatmeal reheat [sic] just to take the chill out and topped with cold yogurt, fresh fruit and nut butter. Sunbutter remains the drippiest!
Were we supposed to be keeping tabs on relative, uh, drippiness of blended nut varieties? Are they racing? Is it bad that I'm picturing Kathy with a sweaty fist of dollar bills, sunlight streaming radioactively in the double-paned racino windows, her breath smelling stale-ly of Coors, yelling at a screen for Wild Friends to bump and run Barney Butter in the fourth?
She also ate eggs, but insists on describing them like some overenthusiastic 16-year-old trying to score an in with the football team or something. All I know is that if you read this in a morning shock jock voice, it works:
Gotta throw some eggs in there for good measure, but I gotta say, my egg obsession that has lasted nearly two years (since Mazen's birth) might be slowing down. Or it might just be the steamy summer mornings. Or summer laziness. Not sure, but I've been eating them less. Here they are scrambled with fresh fruit and jammy toast.
She also had raw oats in another "yogurt bowl," because I'm sure it's incredibly useful to anyone else to know that she thought
It was nearly as good!! More blueberries and nut butter.
Thankfully, Kathy introduces a slight change by acknowledging that she's
….lost interest in writing about my workouts. Each week I have a soccer game, a small group with Erin, a weight training session with Erin and several boring gym cardio/walking sessions. I'll bring this part back if things change! I need to get running again…
No need to do so, Madame. Things will remain boring. Now, if you could just see that leftovers "atop" salads, bowls of oats and other things, and dinners produced by meal-plan are just as soporific.
Anyway, she trudges on to lunches:
This was an egg, cheese and jam sandwich on a Honey Whole Wheat roll. With pear on the side!
That pear isn't "on the side." It looks like it's been shot in the back and Sgt. Sandwich over there is shuffling around trying to secure the china plate from rowdy neighborhood kids who want to poke the body with a stick.
She then complains about salad, and then vegetables, even though she says she really likes vegetables, and she does so in language that would seem to indicate she's — as she would put it — loving salads lately:
I'm kind of down with salads these days. Part of this is because all of our garden lettuce has bolted and it doesn't seem as fresh in the sweltering hot noon hours. But because we still have lettuce I don't want to buy lettuce! So instead I've been cooking up lovely summer vegetables for lunch. This works well because summer veg are my favorite!
There has to be a way to say that pointless paragraph of complaining in fewer words, right?
She finishes her list of lunches with a bowl of leftovers and "a huge salad bar salad" she claims she got to share with Toddler Carbz.
Maybe I'm just not hip to what the "healthy living bloggers" are referring to as "salad" these days, but that looks like five college freshmen's leftovers from an all-nighter studying crammed into one styrofoam container so they can fit it in a zero-cubic-foot dorm fridge. In any case, her son, she was quick to point out, was an utter disappointment to her when it came to sharing its bounty of, well, whatever that is. Peas, and noodles, and orange cubes, and — snow?
I got a little of everything not knowing what he would like and guess what? He barely ate any of it! Ugh! I made a good dent and took the rest home for the next day.
In the dinner portion of our entry, Kathy and Bath Matt cook free sponsor plantains she received as payment for turning over a few hours of her Twitter feed to advertising for
a fair-trade plantain and banana producer …. As a thank you they sent me a few plantains to inspire something delicious. Of course I went straight for the black one and Matt and I fried it up for dinner alongside peas, peppers and leftover ground beef. The plantains were AH-mazing and I felt like I was eating dessert first (I probably was…) but the peas were really good too!
Really? You had five slices of plantain, a scoop of peas, and a — what is that, a pepper stem? Whatever. Let's continue. Do we have a complaint about the meal-planning service that, one presumes, actually makes cooking easier for the other 99.9999999 percent of people who use it and aren't as special as Kathy?
Since we've still had choppy weeks we haven't done a complete Cook Smarts meal plan, but I had to pick one recipe last week and chose the Taco Pasta.
I don't know what this is, but apparently, it involves spaghetti, squash, and…. no tacos.
MY GOSH this was so good!!! I used fresh pasta (from Whole Foods) and added summer squash to the mix since I omitted the onion. This is now on my favorites list!
The next dinner comes wrapped, bathed, and doused in whines about complicated schedules and cardiovascular activity, just the way Kathy likes it:
Soccer game nights are complicated because I either have to eat dinner late after a 5:45 game or early before a 7:10 game.
Do you think the shaking from every working person across the country imagining a 5:45 p.m. dinner registers on the Richter scale? I don't know the answer to that, so let's look at another delicious taco gif. Trust me, we're going to need it, because there are meal-planned tortillas and cheese coming up.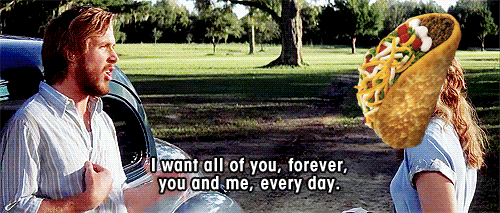 I can't eat much and sprint, so we often have leftovers or DIY meals these nights. The boys had quesadillas (another Cook Smarts meal yet a simple one) with broccoli and I made my own version when I got home. Enjoyed with a little So You Think You Can Dance !!
I'm sorry, Kathy. I think there's an error there, because that dish was clearly served on top of the Eleventh Doctor's jacket.
 Finally, she links to her entry about going out and being done with dinner by 7 p.m., saying: 
Matt and I also went out on date night – fun times!!
What is with these bloggers rendering that word useless and using it to mean nothing at all?
Word salad is pretty standard in Kathy's barren comments section though, I suppose:
I kind of wish Kathy were a person made from cooked spinach. It might distract from that lazy, braggy visor, in any case.
The last two days of posts have just been photo dumps. She gives the housesitters some bags of flour — and a kettle? — and heads to the beach, poses in a bikini and bad sunglasses, hangs out with pregnant Caitlin Healthy Tipping Point, complains that her son is the worst tooth-brusher ever, rejoices in her baby monitor, and wears cruddy-looking sparkle nail polish.
The best/most horrifying of it can be seen on her Instagram and that of Caitlin Rice Crispy Tofu Stick Hork
where no pageview$ money is to be had by Everything On Hold Bath Matt.
*I know. I'm super late posting. I had a lot of actual other work and stuff going on, plus I got completely sucked into this Halfway to WTF DID I JUST READ bullshit, and it was only, well, 47 percent because I was trying to figure out how to PhotoShop my own Christopher Pike book cover of it all.