Monday's post about Kathy's weekend is about how she and Bath Matt had "lots of plans" including unspecified "events" —
but all of our plans changed.
Oh no, Kathy. Did a hurricane destroy a shed where your family had once stored a Slip N Slide in 1988? Did your dad get a paper cut from a dangerous coupon plummeting out of one of his walkin' magazines? Did Churton come home from the doctor with crabs again?
Friday night I came down with a weird sickness. I thought I was getting a killer cold and had chills, aches and the like,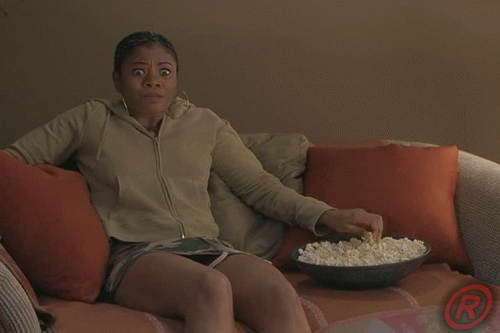 but less than 24 hours later there was no cold and I was better.
Puzzling! It was sort of the best kind of sickness to have though because I was just out of commission enough to get to watch a marathon of Survivor Season 16, but not so sick that was miserable or unable to care for Mazen, who kept me very well entertained.
Pawning Toddler Carbz off on her husband for a thrilling evening of pizza, Kathy "rested" and ate boxed soup and leftovers and "two big hunks" of cheese.
The next morning, she awoke "starving," ate pancakes, stayed home with her child, and ate pizza
leftover pizza and calzone, which Hit.The.Spot.
while he destroyed her beach cottage in training even as she consumptively tried to rally by polishing the subway tiles, re-unfolding her laundry, and dusting the Family Oar.
….I was still recovering, and I got the house in order while he simultaneously spread toys over every inch of the house.
The promise of "buttery" fakery rolls, fakery cookies, ice cream, meat her husband prepared and produce he grilled,
and stupid beer she thinks tastes like pie — was all enough to suddenly bring her back to
….100% normal again, so we merged dinners with our neighbors and grilled out!

The first pumpkin beers of the season were sipped!! Never too early : )
Ms. Mindful Eating (she didn't want to take her husband's last name because she has a mug that supports voting rights, and is therefore a feminist) opined:

On Sunday, they ate
a big pot of family oatmeal
before Kathy grabbed her baby and took off for a beach vacation with her parents AGAIN, with Bath Matt
staying home because he's going on a different trip by himself soon!
Maybe it's just because Kathy is trying so hamhandedly to not talk about her personal life and doesn't want to say something normal-sounding (like that her dude has business to wrap up before going to Carb Warrior Training Adventure, or that Karen has gamely offered to chaperone him to Smashmouth-Fest, or that he's got mandatory volunteer training for Burning Kale, or whatever it is that he scampers out of town for in his black anklets) but "going on a different trip" really makes it sound like Bath Matt's going up the river for twenty to life on a Pumpkin Oh RICO charge.
Whatever the case, the important thing is that someone bought something for Kathy:
Our master bedroom got yet another makeover this year. This time in the bed department!
We learn about the bed in Tuesday's post, called "The Princess and The Pea: Sleep Number v. Tempurpedic." Kathy's the princess in this fanciful tale, and instead of showing up, bedraggled, at a castle, and being unexpectedly irked by a single pea at the bottom of a stack of 26 mattresses, her story is about how she tested out two beds that are so expensive that most people, retiring after a lifetime of exhausting themselves for work and children, can't fucking afford them.
Yep, a king sizer! …. Merry Christmas to us!
There's absolutely nothing wrong with being able to pay a shit-ton for a bed at any age off your own labor, but using your "real food" blog to brag about the gigantic new bed you acquired somehow at Christmas, for really no other purpose than to talk about what a struggle the process was? Klassy.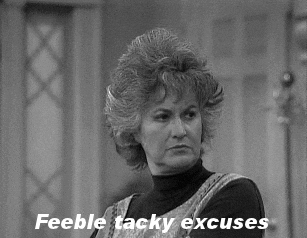 Why was Kathy so happy to swap out the "pretty cheap" master bedroom mattress they'd had for eight years? For one thing, it was EIGHT years old, you guys. Additionally,
I am still obsessed with sleep. Pregnancy + a newbornhood leave a lasting impression!
And yet, sleep-deprived Kathy made the sacrifice to tell the world
I decided to share all of this for anyone debating between Sleep Number and Tempur-pedic. I wish I could have read a post by someone who had owned both!
Excuses Kathy had:
•  "how close in price a queen and king size were."
• She just wanted one, okay? She's "a sprawler! so I knew someday we wanted to get one."
•  "The objective wasn't so much the cost of the mattress, but having to get a new bed and bedding too."
That sentence doesn't even make sense as a normal goddamn sentence, so I'm putting it in the "excuses" category because Smugnom's compost bin is outside soaking in vinegar or something.
She ends up trying out a memory foam mattress and blaming it on her friend Alice, because
every night when her husband gets into bed he says "Best. Mattress. Ever." I wanted to love our mattress as much as they do!

I went to test out a Tempur-pedic and liked it a lot. But I didn't know if I was going to loooove it …. [Bath Matt and I] needed to sleep around – ha!
Also to blame, obviously, is Toddler Carbz, who needed to "run around indoors," requiring a trip to the mall, since it was raining. Oh, and Bath Matt, who was "bakery-friends with the sales woman and she was very sweet to us." They came back a few days later, during a 40% off sale, and bit the bullet on a different "glorified air mattress" and felt like idiots:
I guess you could say we were sucked into good marketing
We were assured that it takes a while to find your perfect number. I seemed to be happy somewhere between a 35 and 40 and went to bed that night ready to wake up feeling the best I had in years. At 3am I woke up and knew we'd made a terrible mistake. I almost started to cry. As a stomach sleeper, I was nestled in a hammock of deflated air and my back hurt from a mattress for the first time in my life. Although the thought of sleeping on air sounds soft, I felt like I was sleeping on a tire.
In addition, she had to fuck around with a remote and "HATED" the "un-romantic" seam where the two halves of the mattress connected.
Luckily, the company's customer service was "incredible!!" during Kathy's week of phone calls.
They offered to do everything in their power to help me out, including sending $500 worth of memory foam toppers for free. I agreed to give it more time, but my gut just knew this was not my dream mattress. It was OK, but it wasn't what I had hoped.
So she sent back the first bed and went back for a mattress that's almost $3,000 by itself, the Tempur-pedic Cloud Supreme:
Kathy very much likes her new bed:
It is sooooooooooo comfortable on my stomach, side and back. There isn't anything electronic to mess with. We absolutely love it!

And guess what I say when I get in bed every night: "Best. Mattress. Ever." (It's true – ask Matt!)
This required a new bedframe, so Kathy did the creepy thing and got the same one her newly married sister has, she describes in, like, gross "The Ice Storm" stumbling Nixon-era swinger language:
We saw hers at Christmas and loved it, and after all we share the same genes, so it makes sense that we'd love the same bed : ) Plus we're both from near Raleigh, NC!
It didn't require a bed skirt, but it did require $200 of West Elm pillow cases and a sham, a $180 white "for summer" blanket from Pottery Barn, a blue $36 Pottery Barn "Tonal Linen Flange Pillow Cover," a $50 striped sham:
 (in the middle – it has a beachy look that I love!)
and the only item she discloses the price for, a set of Lands End sheets called the "Five Star Hotel Embroidered Diamond Sheet Set" she's so happy to say she got for $60. That was the only happiness in her gigantic purchase, though, as
It was really sad to say goodbye to our four poster bed,
but it's now in the attic to come back down when we have a house big enough for it in a secondary bedroom someday!
She ends with a flashback sequence of all the other boring ways her and Bath Matt have had their stupid room set up, and, to tie in with the dumb theme of the post title,
I whipped up this pea dish for lunch last week:

1 cup frozen peas, microwaved with a tablespoon of water until they were steaming
1 ounces goat cheese
1/4 tsp herbs de Provence
1 pinch salt
1 tablespoon shredded parmesan
It's a little complicated to follow, but apparently, you're supposed to mix things, and the cheese melts, and then you have to "enjoy!"
Kind of like macaroni and "peas" : )
Yes, except that you're not swapping out the cheese in macaroni and cheese for anything. You are not eating macaroni and peas. You are eating peas and cheese. And just the mere act of typing that makes me want to go to sleep for several stretches of 10.26 hours, so, yeah, Kathy, I kind of understand now.