Monday's post is about how great Kathy's weekend was, as usual. She went to a concert!
The highlight of my weekend was most definitely the Florida Georgia Line concert!
Oh, okay. Cool. I'm not familiar with the duo, because they seem like a pair of insensitive, smirking asses, but at least it's not some pseudo-virtue night of jumping jacks and shit wine out of plastic glasses under the guise of virtuefun at the expensive gym. Tell us what you liked about the concert, Kathy:
I just love country music. Rather than trucks and fields (which do take me back to high school), country brings out feelings of small towns for me. Relationships, parties with friends, and living life in the moment – soaking up sunshine, the lake, or a good beer.
Wait…. huh?

What? What does any of that mean? Let's take a closer look. Kathy starts out saying she loves country music. This is up for debate, but let's accept her premise. Okay, continue. Kathy says that the country genre "brings out feelings of small towns" for her, rather than evoking "trucks and fields," even though, on a tangential note, both the concept of trucks and that of fields do conjure up thoughts of high school. To explain the difference, I think she lists "Relationships, parties with friends, and living life in the moment – soaking up sunshine, the lake, or a good beer." In conclusion…. no, I have no fucking clue why "trucks and fields" have everything to do with high school and nothing to do with relationships, parties, sunshine, lakes, and "good beer," while "small towns" have everything to do with those things.
In any convoluted case, Kathy says that the group is "one of [her] favorite bands!" even though Bath Matt makes fun of her by sending her links that point out how generic and tired their shit is. (Thanks, Bath Matt. What the fuck do you listen to? Gruit-core?)
In the lead-up to bro country evening, Kathy says she, herself at least partially participated in feeding her family:
….I made stuffed shells. This recipe was a wing-it success! We stuffed the shells (after they were boiled) with ground beef, sun-dried tomatoes, Parmesan, frozen spinach and basically all the ingredients in this meatball recipe.
No shit, Kathy? I totally thought there was a method of stuffing meat into DRIED PASTA. Also, the meatball recipe she links to is her own, where you use 1 pound ground beef, 10 ounces frozen spinach, 1/3 cup of sun-dried tomatoes in oil, 1 cup panko, 1/2 grated cheese, 2 eggs, salt, pepper, and the world's smallest teaspoon of garlic powder. How are Kathy's meatballs? Let's ask Sponsored Thanksgiving, who made them. Or, you can take Kathy's unreliable word:
With sauce poured on top, they turned out great!
The red meat must have come out because poor, long-suffering, jambalaya-making Jeff, came over for dinner. He had to bring salad.
They also ate ice cream.
Kathy says it's "worth noting" that they split only half a cup of ice cream scraped from the bottom of two containers and that hers was the really nice custom-made one, which I'm sure she felt rich generosity for giving away because it was her special snowflake stash, when she should have realized she was being a gross miser because who the fuck gets stingy about ice cream? This isn't Little House in the Big Woods, where obtaining sugar is a perilous journey through panthery woods to obtain gingham and rock candy.
The PB Cup was Karen's and it ended up in our freezer when she moved – yum!
Guess what, Kathy? Not worth noting. Also? Don't give your fucking guests ice cream from almost four months ago. That's disgusting. Go to the store and get fresh stuff, and get more than a pint, so that your guests can have as much as they want. If it's even possible that your guests might want more of anything and you're not making it available for them, it's not hospitality, you stingy bint.
On Saturday, Kathy and her child ate oats, and then went to fancy gym, and then left fancy gym so they could run six miles.
Post-baby PR baby! We ran quite slow (per Nelle's 13 miler training plan) and I felt good for most of the run. It wore me out for the rest of the day though!
Oh, look at you, Kathy, graciously accommodating Nelle's speed. We know you would totally run faster if it weren't for her, wouldn't you?
After the run, she had
After Mazen and I got home, I proceeded to eat All The Chips. But I paired them with a healthy sardine salad. It's been my post-run craving these past few weeks!
Kathy then went back out and took her child to the children's museum and then went back home "for nap."
When she woke up, she was ready to go to the concert, so she put two ounces of wine in a glass and set it on her bathroom shelf and took a picture and posted it on Instagram. Or, as she calls it, she engaged in
A little pregaming!
She and her four friends went to something called the Sedona Taphouse for an "awesome" dinner of wine, "a nice salad," and a "pretty darn awesome!!" main dish:

The five pre-gamed, bro-countried ladies then ate chocolate cake with ketchup, I guess —
— but Kathy had the tiniest portion of all:
Just two bites – perfect!
How was the concert? Well, Thomas Rhett opened:
love him!
Then, the main act played, and Florida Georgia Line was
awesome. Love their style!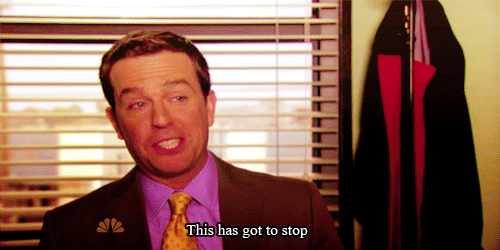 I think Kathy would fall down blue on the floor if she'd had to write this entry without using the words "awesome" and "love." She then posts this photo:
Kathy's caption: "Blondes like to have fun!!"
Get your shine on!
I don't know what that means and I refuse to look it up.
Next, she posts this photo:
With the caption, "Guess it's pretty clear everyone has a smart phone these days ; )"
Yes, because "smart phones" are the only ones with light-up displays. And yeah, wow, Kathy, even the poors who shop at PetSmart and don't go to happy hour gym and who don't have NERD on their license plates are capable of obtaining the same technology.
Kathy was out "very late," so Bath Matt brought her pancakes with chocolate peanut butter on top in bed. She was awake at 7, though, so that probably means she didn't get to bed until 10:27 p.m.
Swinging back to penitent and healthy from her supposedly wild night of fun and wine, Kathy says she did "work around the house" on Sunday, finished assembling her $500 of particle board —
— ate soup and kombucha, went grocery shopping at Whole Foods, and served her family
Garlicky kale + catfish + veggies + the last of an open bottle of vino.
She ends by saying something else I don't wish to know the meaning of:
Hope y'all had shining weekends too!



Tuesday brings with it Kathy's tentative venturing into the world of shorter posts about what-the-fuck-ever. The neighbors who have the baby and the chickens came over on Monday, and Kathy was excited about it because it was an excuse for chocolate, shortbread, and alcohol:
Company always makes for a fun Monday : ) What normally would be a boring night turns into a celebration with wine and dessert!
She left the boxes out from that diaper-change-crafts hutch monstrosity, so at least Toddler Carbz and Neighbor Girl had something to play with aside from rusty baskets of rubber ducks from Grandma Buzz's attic.
Who cares that the instruction manual says to wash all the dust and crud off of all the 260 pieces of the hutch after taking them out of the boxes? If Toddler Carbz can handle a little yellow spray paint and chardonnay in utero, mystery dust and petrochemical smoke from picturesque Guangdong* is nothing.
While the children were playing in, I don't know, the perfect flow of aerosolized melamine or whatever, Kathy "and" Bath Matt made meal-planning-service dinner:
….chicken thighs with rice (which I pesto-fied instead of pilafed) and cabbage. The cabbage was a lovely delicious surprise with great garlicky flavor! Cook Smarts recommended lemon and greek yogurt, and they were great additions to the meal.
I'm guessing that "pesto-fied" means she plunked a frozen cube of pesto from 2013 onto the rice instead of using the obvious onion that would have been required for rice pilaf, but leave it to Kathy La Misteriosa to not explain any of that. She then decides to tell us both how fancy she was on Tuesday morning and what an inconvenience her child is, by saying they
dined on scrambled eggs (which he requested and then wouldn't touch)
In addition to recording, for posterity, yet another time when she's decided to see something her 2-year-old son has done as inconvenient, Kathy capitalizes "Pomegranate," which is dumb because she always says "greek yogurt" and "french toast" and the shift key exists for a reason. However, overall, this new format where she talks about whatever for a few paragraphs is as bracing as a cold smoothie in a bowl tipped over one's head, to which I offer a sincerely slow-clapping thank you to Our Kerfiness. The emoticons and exclamation points are still freaking everywhere, but trying not to treat every day's entry like it's a fucking book report on The Andromeda Strain, and forcing Guest RDs and endless lists of everything she ate in a given week has put a magazine-walking pep in Kathy's written step and a Bare Minerals glow on her selfied cheeks. Or maybe I just like being able to recap shorter posts.
*No, I have no idea where in China that ugly hutch in which her stupid cheese box does not fit perfectly was manufactured.